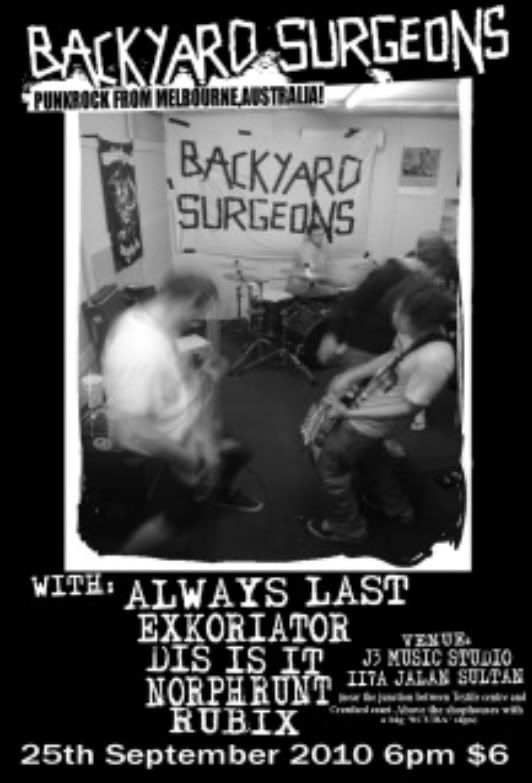 Gig happening this weekend!
Come ok?
Doors open 6pm and show has to end 10pm S.H.A.R.P.!
* update - Norphrunt had to pull out due to someone in the band having work commitments. Bummer. Oh well...would have loved to have them!
* update part 2: ELEGY FOR EULISZA will replace them. Its going to be a mad show!
6.15 - RUBIX (punkrock youth!)
6.45 - DIS IS IT (D-beat crust hooligans!)
7.15 - ELEGY FOR EULISZA (heavy hardcore monsters!)
7.45 - ALWAYS LAST (melodic punkrock circle pitters from Kuala Lumpur!)
8.30 - EXKORIATOR (crustcore attack!)
9.00 - BACKYARD SURGEONS (melodic punkrock from Melbourne!)
10.00 - go home assholes.
Venue near Arab Street, nearest MRT Lavender. Its by the main road / T-junction. Address is 117-A Jalan Sultan, go do your research you lazy assholes.
http://www.streetdirectory.com/asia_travel/travel/travel_id_4479/travel_site_15236/
See you in the pit!
Sorry, no smoking or alcohol within venue premises. Respect the space especially when it's not yours.