See you there!
Featuring : BRIGADE OF BRIDGE, TAKEOVER, MY PRECIOUS, BLACK TERROR, EXKORIATOR, STATEMENT OF OUTRAGE.

SUNDAY 24th October
POTONG PASIR COMMUNITY CLUB (or CENTRE)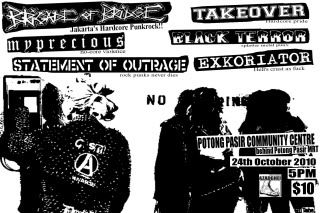 For those not familiar with the area, Potong Pasir MRT is on the North East line, once you reach you look for the exit nearest to the open field (not the shophouse area).
Walk straight down the pathway and just bash your way through the blocks, you will come across another open field. The CC is just beside it.